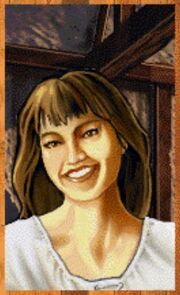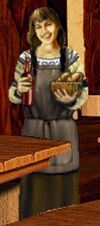 Pizzi is a barmaid in Panizo in Betrayal in Antara. She appears in Chapters 1 and 2, but is absent if the city is visited in Chapter 6.
Description and History
Edit
A brown-haired young woman with a pert manner and petticoat-flashing walk, Pizzi works as a barmaid at the Bandera's Gift Inn in Panizo.
To the surprise of Kaelyn Usher and Aren Cordelaine, Pizzi is extremely familiar with William Escobar, allowing him to pull her into his lap and kiss her cheek, calling him "my crumb," and kissing him thoroughly while demanding the reason for his long absence.
Grinning, he tells her he's been in Januli visiting the family of his fiancee. She laughs and pulls him towards the inn's back roooms, glad he hasn't found "another girl." When he protests he's engaged to be married, she interrupts him with a kiss and notes that he's not married yet.
Community content is available under
CC-BY-SA
unless otherwise noted.