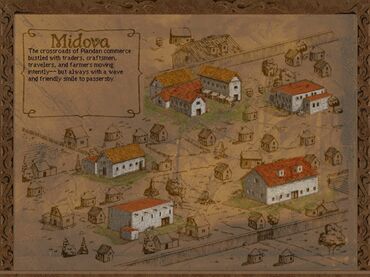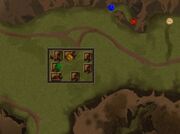 Midova is a Piandan city in the Antaran Empire in Betrayal in Antara. It is visited Chapters 1, 2, and 6.
History and Geography
[
]
The crossroads of Piandan commerce, bustling with traders, craftsmen, travelers, and farmers moving intently -- but always with a wave and friendly smile to passersby.
Due to its central position between Pianda and Ticor, Midova is a commercial nexus.
Midova is a walled map city which stands on the crossroads between roads leading to Aliero and Imazi eastwards, Panizo to the south, and a bridge to Ticor westwards. A gully opposite the city gates is a favored haunt of High Mage Finch.
Commerce
[
]
Inn: Greener Pasture
[
]
Description: The constant tide of travelers throughout Midova put sleeping space at a premium. Common rooms, rather than private accommodations, were the norm.
Amenities: Ale, Rations, gambling; rooms available for 9 burlas.
Music: first verse of You'll Never Hear My Name.
In Chapter 2, the courier Leon can be found in the Inn.
Shop: Second Skins
[
]
Description: While the armory specialized in leatherwork, it occasionally stocked items of other descriptions.
Sells: Leather Jerkin, Leather Armor; Short Swords; Drums; Rope
Buys: all Armor
Free: coil of Rope?
Marketplace
[
]
Description: The focus of much of the town's activity, the shops and open-air stalls of the market filled the air with sounds and smells to attract traffic.
The Worm Charmer is here in Chapter 1. He is still there in later chapters but cannot be interacted with.
One of the stalls features chocolate-tasting.
A shady man in the back alley offers a 30-burla "magic bracelet" set with red gemstones. Declining this obvious fraud has no stats effect.
Peerless Imports
[
]
Description: A dizzying palette of aromas surrounded the shop, where exotic spices from across Ramar tantalized passersby.
Still moving in as of Chapter 1. In Chapter 2, the proprietor, Paolo Verazza, can order Chailan tea for the party, initiating a quest that ultimately takes them back to Kyree Colony before they can collect their purchase. Closed again in Chapter 6.
City Financier
[
]
Description: With the amount of money changing hands in Midova, it was hardly surprising to find a Burlene banker offering his services.
Closed in Chapter 1. In Chapter 2, Antoni Octomont can be queried about a loan and about forclosure procedures targeting Paolo Verazza. In Chapter 6, the establishment is closed for Imperial auditing.
Trivia
[
]
The city's name figures in the answer to a trivia chest.
In Chapter 2, trying to enter Peerless Imports before talking to Mage Finch can cause a glitch that crashes the game.