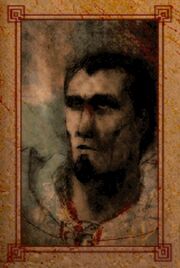 Chail is a kingdom in Betrayal in Antara, reached by sea travel from the Antaran Empire. It is mentioned, but never visited in the game.
Royal Family
Edit
King Kalibanque is the King of Chail. He is mentioned, but does not appear, in the game. He is the father of at least three children, including his second-heir Prince Gazrim Kalibanque and his third-heir, betrothed Imperial Consort to Princess Aurora Valorian of Antara, Farril Kalibanque.
Due to his health, the King was unable to voyage to Antara to present Prince Farril to the court of Emperor Justin Valorian V, and sent his second-heir to stand in his stead. Prince Gazrim recognized William Escobar, Kaelyn Usher, and Aren Cordelaine for their services to Chail, and presented his brother Farril to the Imperial Court.
Chailan Court and Culture
Edit
The King's mage is named Misha (not to be confused with Misha of Beluckre).
A woman in Havesly who fled from her abusive husband, a Chailan nobleman, describes the Chailan court as harsh and superficial. Prince Farril says that letting petitioners "sit and stew" is "standard procedure" among Chailan nobility, and Selana Sheffield describes kidnap for ransom as "a legitimate, time-honored practice" in Chail.
Chailan culture has influenced Ramar in many ways, including the high demand for Chailan brooches in Antara in anticipation of the impending alliance between Chail and the Imperial Family; the Chailan Cutlass, indispensable among pirates and seafarers; and Chailan Tea, a favorite beverage of Mage Finch, imported to Midova in Chapter 2. 
The Museum of Antiquities in Ravenne has artwork from Chail and other countries.
A woman in Waterfork has heard third-hand gossip suggesting that the Imperial Consort was kidnapped "to coerce Chail into joining Mehrat in the war against Antara." William Escobar doubts this rumor. A man in Waterfork is also terrified of the rumored alliance, expecting it to bypass the fleet at Ormede and attack the town.
Travelers from Antara have visited Chailan bazaars.
The refugee in Havesly misses the Chailan calliewood blossoms, which "glow like candle flames in the evening" this time of year.
William's boots are imported from Chail.
Community content is available under
CC-BY-SA
unless otherwise noted.