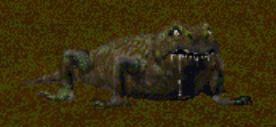 Carliths are reptiles dwelling in Pianda and Antara in Betrayal at Antara. Carliths appear in Chapters 1, 2, and 6.
Description
[
]
Carliths are large gray-brown reptiles with beady eyes, heavy low-slung bodies, sharp teeth, and vicious jaws that drip saliva. Land-dwellers, they grow up to four feet long and move quickly on all fours. They hiss when attacking and when struck.
A common threat to travelers, Carliths are found both above and below-ground, lurking on paths and inhabiting caves.
Trivia
[
]